I, unlike a lot of friends of mine, DNF books I can't handle.
I know, sometimes the book turns around in the last and actually surprises you, I get it. But in my opinion life is too short to read books you're just not into.
Whether it's content or the way it's written, many things can cause people to stop reading. It's why books are so subjective. Not everyone likes the same TV shows either. For instance *prepares for barrage of stones* I don't like Game of Thrones.
But what are the particular things which make me so uninspired I choose to stop reading?
Read on, if you care.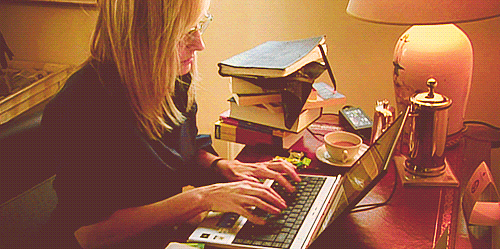 This is a biggie. A lot of the time I view writing as a rhythm. Sometimes, particular writers have a sort of style I need to read a few chapters to get into, like a song you need to listen to a couple of times to truly enjoy or understand.
Case in point for me – Uptown Funk.
Once I understand the rhythm I can enjoy a book no end. But a few writers I've read and either DNF'd or come close to abandoning, have a very staccato style of writing and it throws me off. Terry Pratchett is world renowned for his humour and writing style, but I'm not a fan unfortunately. I couldn't ever wrap my head around what he was trying to say and the flow of the writing always felt disjointed to me.
It's the same when some writers are very to-the-point with the writing, it becomes less of a flow and more of a play-by-play. So… I like it lyrical, not too jumpy, but also not too lyrical.
If you tell me each leaf colour I'm going to scream.
Whether it's acting out of character, doing Dumb Shit, or simply skimming the surface of what could be an interesting personality, I stay with books for characters. Even if nothing much happens dramatically, if there's characters rich with personality and voice, I'll stay.
Of course there are some exceptions – if the MC is far too whingy or weak or just not my kinda person, I usually read on for the side characters but there are some times where everyone is on the same level of either one-dimensional or nasty personalities, or a combination of that and the first reason, then… yeah. It's annoying.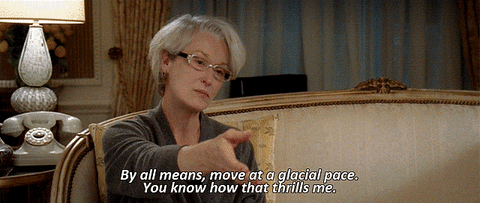 I am a fan of character-driven novels, but if all you're doing is having characters talk to each other and nothing else? If your story is just a romance of will they won't they dragged out over 270 pages and the only thing that happens is she goes shopping?
I will be bored. I'll be more than bored, actually, I'll have closed the book and be running around the garden singing songs.
Slow pacing is fine a lot of the time done well, but if there is NO ACTION at all I will be asleep with the book for a pillow.
I get it, especially in YA, that hormones can make you lust after someone. Again in YA, teenagers can say they love someone after an hour. I know I felt really connected to people when I was 17 and formed a very intense, hormonal bond.
HOWEVER, I'm sick of the image of teens who would readily die for someone because of insta-love after 2 days. I'm sure some teens feel so deeply they would, but there are some teens who wouldn't really believe it as a be-all end-all. I think it sometimes does teens a disservice to imagine that they'd blindly follow someone they love just because they love them.
Like, yeah love is blind sometimes but does it always have to be damaging characters? Follow me off a cliff or else? Psh.
Everyone: Feyre, no!
Feyre: Feyre, yes.
You know, when someone is told 100x NOT to do something and they do it anyway? Without remorse? Or second guessing?
I will put the book down, heave a huge sigh, and may or may not pick it up again. IF they go against someone's advice who knows better, and the character KNOWS they know better, at least give them a fucking good reason to defy that advice. Not just "because I must!".
What are your dealbreakers for novels?